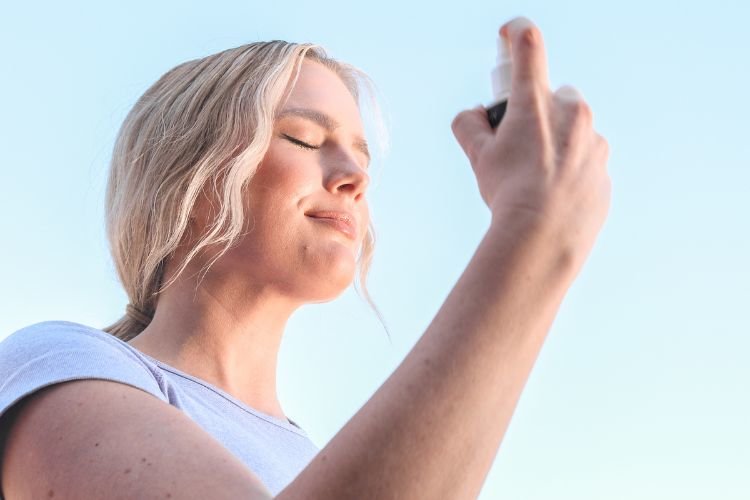 We know the sun can damage your skin, but are you aware that it can also damage your hair and scalp?   
If you want to enjoy the outdoors but want to maintain healthy hair that isn't dried and dulled by the sun, you need to use sunscreen for your hair and scalp too. The sun's UV rays can still damage your scalp which can affect the growth and health of your hair.
Does Your Hair Need Sunscreen?
Yes! The sun's UV rays can also damage hair. It can make your strands brittle and dry which can increase breakage and split ends. Often, sun-damaged hair will turn a lighter color, giving the appearance of being bleached. 
When your hair sustains excessive damage from the sun, it can cause hair to break or fall out. This means that exposing your hair and scalp to UV rays can speed up hair loss so it's best to use a hair and scalp sunscreen for protection. 
Your hair, scalp, and hairline receive the most exposure during the day. Most people slather on sunscreen after a few hours but forget to protect their hair and scalp. However, it's better to apply sunscreen in these areas too so your hair won't get damaged and your scalp will not get burned.
Benefits of Using Sunscreen on Your Hair and Scalp
You might think that putting sunscreen on your hair and scalp is unheard of, but there are products that are primarily designed to protect your hair and scalp from the sun's rays. 
Here are some of the benefits of using sunscreen on your hair and scalp: 
Using sunscreen can prevent hair loss. 
Sunscreen applied on hair can prevent breakage and brittleness due to excessive sun exposure. 
You lessen the risk of skin cancer when you use sunscreen for your hair and scalp. 
Your hair may provide some protection from the sun, but applying sunscreen will also protect your scalp, hairline, and hair. 
Preventing UV rays from affecting the scalp creates a healthy environment for hair growth.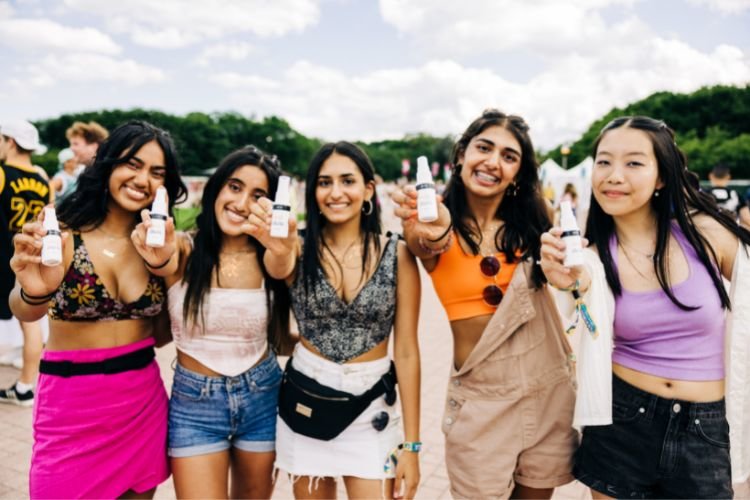 How To Choose the Best Sunscreen for Hair and Scalp
Given the number of products for UV ray protection for your hair and scalp, which ones should you choose? Here are the factors that matter when choosing the best SPF product for your scalp and hair.
Consider the SPF Number
The SPF number indicates the protection the sunscreen provides. The higher the SPF, the more protection it provides against the sun's UV rays. Most dermatologists recommend an SPF that is higher than 15. In most cases, it's best to choose a product that has a minimum of SPF 30 for your hair and scalp. 
When it comes to hair, the goal is to protect it from the bleaching and drying effect of the sun. Check the ingredients for UVA and UVB filters which can protect hair. 
Consider the Sensitivity of Your Skin
If you have sensitive skin, look for a hair sunscreen that is gentle on the skin and will not irritate your scalp. Some sunscreens such as zinc oxide or titanium oxide are good mineral filters and can be applied on the scalp. Actiiv's Hair and Scalp Defense Spray is a great solution. It's a sunscreen that can be sprayed on the scalp and hair, protecting them from sun damage. 
Choose a Product That Uses Organic Ingredients
Look for a sunscreen that uses organic or all-natural ingredients. Most organic ingredients will not cause allergic reactions and provide additional moisture to the skin. 
Some examples of hydrating organic chemicals are shea butter, jojoba oil, and green tea. They will keep the hair hydrated and prevent other chemicals from penetrating the scalp. 
Choose a Water and Sweat-resistant Sunscreen
An important feature of sunscreen is its water and sweat resistance, especially if you want to apply it to your hair and scalp. These qualities ensure that the product stays longer on the hair and will not be affected by exposure to water or sweat. 
Best Sunscreen for Hair and Scalp
One of the best sunscreens for hair and scalp is Actiiv's SPF 30 Hair + Scalp Defense Spray. It has ingredients that prevent UVB and UVA damage. It also protects the scalp and hair under different weather conditions.
Because it's a spray-on sunscreen, applying it is easy and light. Once you have it on, the spray is weightless so you won't feel greasy or sticky. In addition, the product contains natural ingredients such as saw palmetto and red clover which can promote hair growth while preventing hair discoloration and damage.